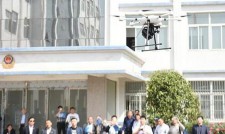 News
-
updated: Apr 27, 2017
JTT UAV Impressed in She County's Political and Legal Work Conference
The first quarter conference of She County's political and legal work was held on April 19th, Municipal Committee and Committee Secretary Huang Gengti attended the meeting.
In the morning, Huang Gengti led the city counties (cities, districts) committee and responsible person to inspect the South Street neighborhood of Kunyang Community, to oversee grid management and security work, as well as buffalo Du Village comprehensive management workstation, and the exhibition of She County anti-terrorism drills and equipment. Among them, the hottest topic is JTT UAV, listed as one of the best high-tech surveillance drones in China.
JTT UAV pilot operated T60 UAV to accurately fly to the emergency event site, monitoring and transmitting onsite pictures, video, and audio in real-time through the long distance high-definition images and audio transmission system back to the security command center,  thus the commander team could get a bird-eye view from the sky.
In addition, JTT T60 could equip payloads and rescue packages following the instruction of the commander center, assisting onsite personnel to control the situation. If the incident occurred at night, T60 could equip with LED lighting device to give light at night.
After the commander center received the real time information, it will quickly set up the plan and manage teams and equipment to give the fastest response to the incident site. 
When the onsite team arrived at the scene, T60 surveillance drone gives a direct report to commander center, helping the commanding team to adjust plan according to the onsite situation, which effectively resolves security incidents and protects public safety. 
In this walkthrough, JTT UAV, equipped with three-in-one intelligent payloads, exhibited its real-time transmitting technology and bird's eye perspective advantage, becoming a shining star and impressed everyone in this anti-terrorism meeting.